This article written by Helene Komlos Grill originally appeared on the Stockholm University website and was last updated on December 11. More information about scholarship opportunities similar to Michael Nelson's are available on Stockholm University's website. To learn more about MAEUS students, such as Michael Nelson, please visit our webpage on the European Union Center website.
We talked to Michael Nelson, an M.A. student in European Union Studies at the University of Illinois at Urbana-Champaign who currently studies at Stockholm University thanks to the Kungstenen Scholarship awarded to him in 2014.
I am doing a Master's in International and Comparative Education. I chose this program because I was always interested in education but never had the chance to formally study it. After getting some work experience related to international education through jobs at the University of Illinois and an internship in Belgium, I thought I had developed a foundation of practical knowledge that could be complimented by academic study.
Since I envision myself working in higher education administration, I thought I would focus my Master's studies around the topic of educational leadership and management. In some ways I did, but I ultimately decided to research the impact of the ongoing conflict in eastern Ukraine on local university students for my Master's thesis. I think that goes to show that your research interests will change and evolve as you work with your classmates and professors on a wide variety of topics.
High proficiency of English in Sweden
It fascinates me that I have been able to do a Master's degree program taught in English in a non-native English speaking country. Prospective American students should know that the level of proficiency of English in Sweden is almost at a native level. I have written several course papers here, and I really feel that I have such an advantage over some other students because I am a native English speaker. Still, my writing skills in English have improved due to the high expectations of my professors. I've observed that professors here expect even more from students' written assignments than American professors, so I have still been able to further develop my critical reasoning and writing skills.
Challenging and rewarding academics
Studying at Stockholm University has been a wonderful experience. As one of the top 100 universities in the world, the academics here are challenging and rewarding. I feel well-prepared for my future, whether I apply for jobs or to doctoral studies. It has been exciting to learn some Swedish, but everyone can speak English here, making it an easy adjustment for American students. I've been able to experience Swedish culture, ranging from daily fika breaks to ice skating at Kungsträdgården.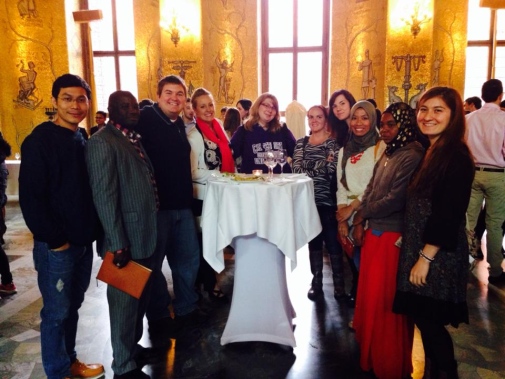 A pleasant place to live
Stockholm is a really pleasant place to live. I notice it most with my health, as here I definitely spend more time outside getting fresh air, and get more exercise from walking around and exploring. This is an international city full of people from different backgrounds, so I constantly meet new people with interesting stories to share. That also means there is a wide variety of tasty food! Finally, there is always something going on here, like concerts from every popular singer or band you could ever want to see.
Making friends from around the world
One last thought: I will really cherish the friendships I've made in Stockholm. I imagined that I would make a lot of Swedish friends, but I never knew that actually I would be making friends from around the world. Already, I have travelled to new friends' home countries because of the relationships I've made in Stockholm (not to mention all of the cheap flights and ferries available from Stockholm to other countries). I feel confident that my friendships made here will be lifelong. Tusen tack for this amazing experience!